Undergraduate Advising
The key to making the most of your educational opportunities is advising, so it is essential that you seek proper advice. Our faculty, Undergraduate Advisors, and Peer Advisors play an important role in advising on all aspects of the major(s). 
The Psychology Advising Office is located in Social Sciences 2, Room 273. 
I
n the Summer, our office will be working remotely; w
e will provide Drop-in Advising with peer advisors and appointments with advisors through Zoom only
. 
The following is a guide to all available academic advising. 
Please note that some staff are working remotely, and power outages may occasionally impact our advising availability.
---
Choose an option below:

---
Advising Services
Unless posted otherwise, Psychology Department Advising is available Monday through Thursday, 9:00am-12:00pm and 1:00pm-4:00pm (see the Advising Calendar below). For assistance, please review the options below and follow the instructions to speak with staff.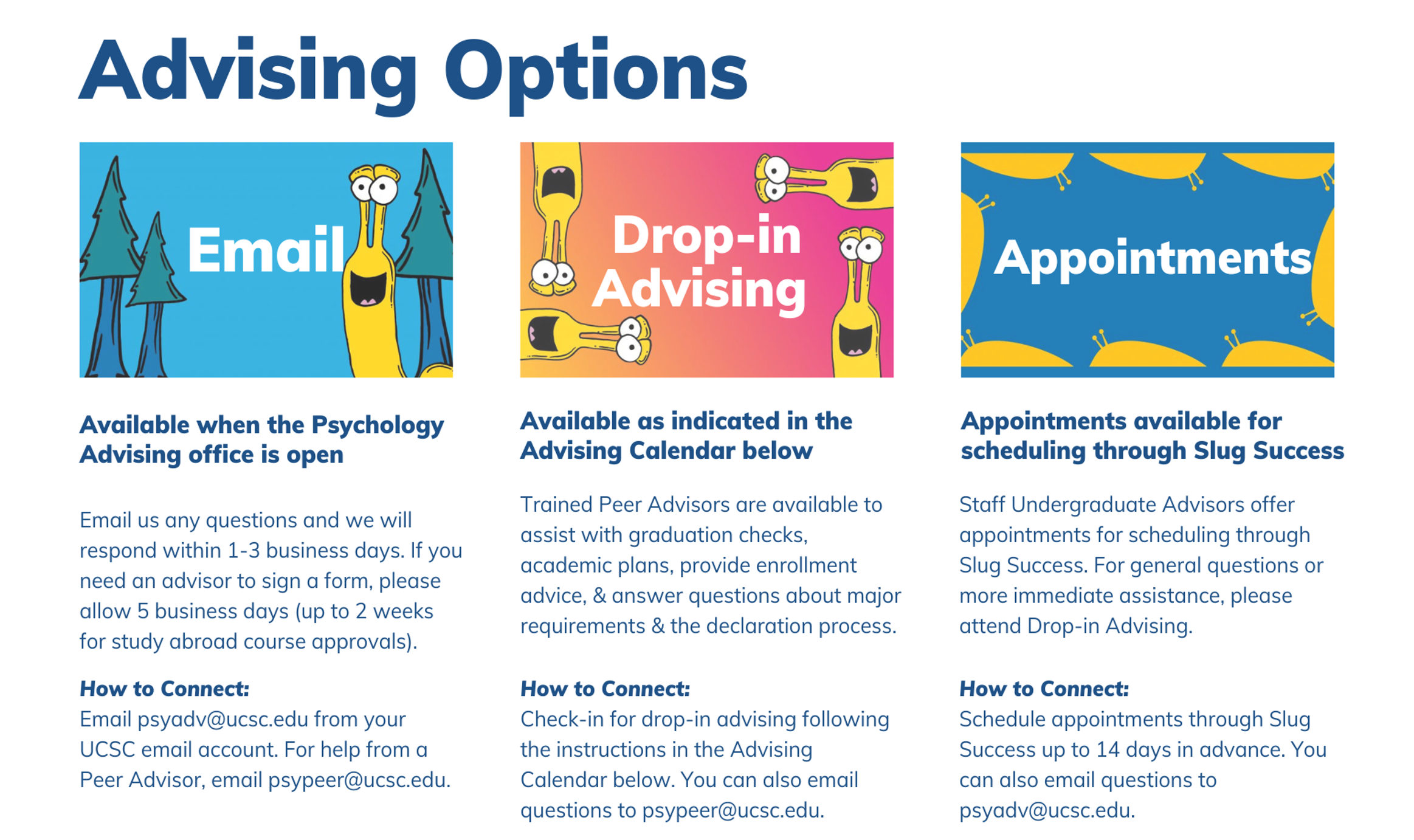 Click here for a PDF version of the Advising Options image above
Drop-In Advising with Peer Advisors
Trained Peer Advisors are able to assist students with:
academic plans (for personal use, find sample plans here)

Need an academic plan signed by an advisor? Submit a request through this form & an advisor will provide you with a plan via email.

general questions about the majors
enrollment advice (click here for initial enrollment assistance information)
questions about Declaring Cognitive Science or Declaring Psychology 
Study Abroad Academic Approval forms (academic planning section)
If you have questions they can't answer, Peer Advisors have a line of communication with Undergraduate Advisors and can refer you to Undergraduate Advisors if appropriate. Peer Advisors are also available via email at psypeer@ucsc.edu.
Sign-in to your UCSC Zoom account (screenshot instructions to do this here) and use the Zoom link provided in the calendar below to attend Drop-in Advising or Global Learning Drop-in Advising during the scheduled blocks. 
Advising Calendar
See the calendar below for the schedule and instructions to access Drop-in Advising with a Peer Advisor. If you would like to speak with a staff advisor, see the Undergraduate Advisors section below.
Undergraduate Advisors: Available through Email & Appointments
Undergraduate Advisors are available to assist students with:
substitutions of transfer courses and study abroad courses
petitions or appeals
Veterans Benefits Verification, and other forms requiring an advisor's signature
enrollment assistance (click here for initial enrollment assistance information)
recommendations for courses and faculty to approach for research interests
signed academic plans

Need a signed academic plan? Submit a request through this form & an advisor will provide you with a plan via email.
Email
Email psyadv@ucsc.edu with questions, requests, and any forms needing signatures. Please allow between 1-3 business days for an email response. We will complete any signature requests within 5 business days. If you would like to petition to have study abroad courses fulfill major requirements, begin the process at least 2 weeks before your study abroad deadline (visit our Global Learning webpage for details).
Schedule an appointment
Undergraduate Advisors will offer a limited number of appointments each week. Appointments are available to book through Slug Success up to 7 days in advance and are available for scheduling on a first-come/first-serve basis.
Please note: Most questions about major requirements, enrollment, and inquiries about the major declaration process can be answered through Drop-in Advising with a Peer Advisor. Students who are still only proposed in a major are best served through Drop-in Advising, unless assistance is needed with appeals or petitions, or there are concerns about meeting the eligibility criteria to declare. Peer Advisors also assist with graduation checks and create personal academic plans through Drop-in Advising (fill out this form if you need an academic plan signed by an advisor). For initial advice about graduate school or career paths, please visit our Career Resources page.
CLICK THE BUTTON BELOW TO LOGIN TO NAVIGATE SLUG SUCCESS & SCHEDULE AN APPOINTMENT:
For assistance in scheduling an appointment in Navigate Slug Success, view these self-help guides.
APPOINTMENT TOPICS available: 

Academic Difficulty, Academic Planning/Guidance, Enrollment, Forms/Petitions/Appeals, Graduation/Progress Check, Reason Not Listed/Other

Not Proposed or Declared in Cognitive Science or Psychology? You can choose this appointment reason when scheduling: Academic Planning/Guidance

Not currently taking classes at UCSC? Please note that drop-in advising and appointments are only available for active UCSC students. If you are not currently taking classes at UCSC, please  email psyadv@ucsc.edu for further assistance.
Field Study Advising
Students must attend a Field Study Informational Meeting before making an appointment with the Field Study Director. For more information about informational meetings please click here.
---
Other Academic Resources