Graduate Program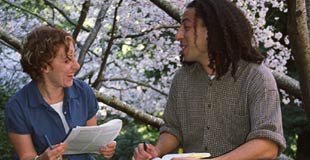 Our Ph.D. program has earned national distinction in cognitive, developmental, and social psychology. Each research area has its own unique educational purpose and philosophy.
Every student is primarily associated with one of the three research areas and participates in the courses and research forums sponsored by the faculty in that area. Students may also work with the faculty in other areas when their interests cross traditional boundaries.
Learn more about our three programs of study:
For those interested in applying to our graduate program, we recommend that you read the research interests of faculty members to determine which one(s) are conducting research in the areas you are interested in. If you see a potential match with your own research interests, please contact that faculty member directly to explore possibilities. Hard copies of information on our graduate program are no longer available for mailing. You may also want to view our frequently asked questions for answers to common questions about our program.
Paper application materials are no longer available, the on-line application and requirements can be found on the Division of Graduate Studies webpage. Supporting materials, letter of recommendation, and statement of purpose are part of the application; other information submitted should be sent directly to the Division of Graduate Studies where they will be imported into a database for interested faculty to review. Only one copy of supporting material is required. For information on fee waivers, contact the Division of Graduate Studies. No additional admission materials are required by the Psychology Department.
Thank you for your interest in our program.
Note: Specific questions about our graduate program should be directed to psygradadv@ucsc.edu