Newsletters
For information about current events, workshops and more please see newsletters below and visit the Events & Workshops page! You can also find event information, job postings, and other announcements on the UCSC Psychology Department Facebook and Instagram.
---
Spring Quarter 2020 Newsletter
Hello Cognitive Science and Psychology students!
We hope you are healthy, safe, and are adjusting to this virtual Spring Quarter. 
The Psychology advising team has been busy setting up new online advising processes, so this newsletter is a bit delayed. Thank you for your patience. Please see below for Spring Quarter 2020 important information from the Psychology Department!
MAJOR DECLARATIONS
The online major declaration process is now posted on our website! 
The  Major Declaration Deadline for Spring 2020 is 

Thursday, April 23

.  
Declaring by deadline ensures that your declaration will be processed before Fall 2020 enrollment begins.  
DROP-IN ADVISING
Drop-In Advising with Peer Advisors is now available Monday-Thursday, 9:00am-11:45am & 1:00pm-3:45pm

Peer Advisors are able to assist with graduation checks, academic plans and answer questions about majors requirements and declaration process.

To access this Zoom links for drop-in advising, view the calendar on our Undergraduate Advising page.
FIELD STUDY 
If you are interested in Field Study opportunities (PSYC 193) for Summer 2020/Fall 2020 or Fall 2020/Winter 2021, you must attend an information session.
4 Information Sessions are scheduled the week of April 20. You must sign up for a session in order to receive the Zoom link.
For Information Session times and sign-up information, view the flyer linked here & the Field Study webpage for Prospective Students.
SUMMER SESSION
UCSC Summer Session Enrollment begins May 1! 
Find more information about enrollment on the Summer Session website.
This summer, the Psychology Department teaches Upper Division courses in every area, multiple senior seminars, all of our lower division courses, & PSYC 100!
UPDATE 4/10/2020: All Summer Session courses will be offered through remote instruction. Updated information will be available on the Summer Session website by April 24.
CAREER RESOURCES
STAY INFORMED
It is important that you are receiving and reading any emails from psyadv@ucsc.edu. Check your email often & make sure these emails aren't going to your Spam folder.
Check the UCSC Psychology Facebook page, UCSC Psychology Instagram, and the Undergraduate section of our website regularly! We're making sure anything that gets sent by email to our distribution list is also available online. 
Please note only "Proposed" or "Declared" students in our majors will receive emails through the distribution list. If you are not currently either status for the Psychology or Cognitive Science majors, you will need to check the website and social media for important information. We will update the distribution list to add newly-declared students prior to distributing Fall 2020 Enrollment information.
IMPORTANT DATES (updated 5/12/2020)
Download the PDF Important Dates flyer
here
.
---
Older Newsletters for Academic Year 2019-2020 
Spring 2020 Enrollment Newsletter (PDF)- view below
Winter Quarter 2020 Newsletter (PDF)- view below
Winter 2020 Enrollment Newsletter (PDF)- view below
Fall Quarter 2019 Newsletter (PDF)- view below
---
Spring 2020 Enrollment Newsletter
---
Winter Quarter 2020 Newsletter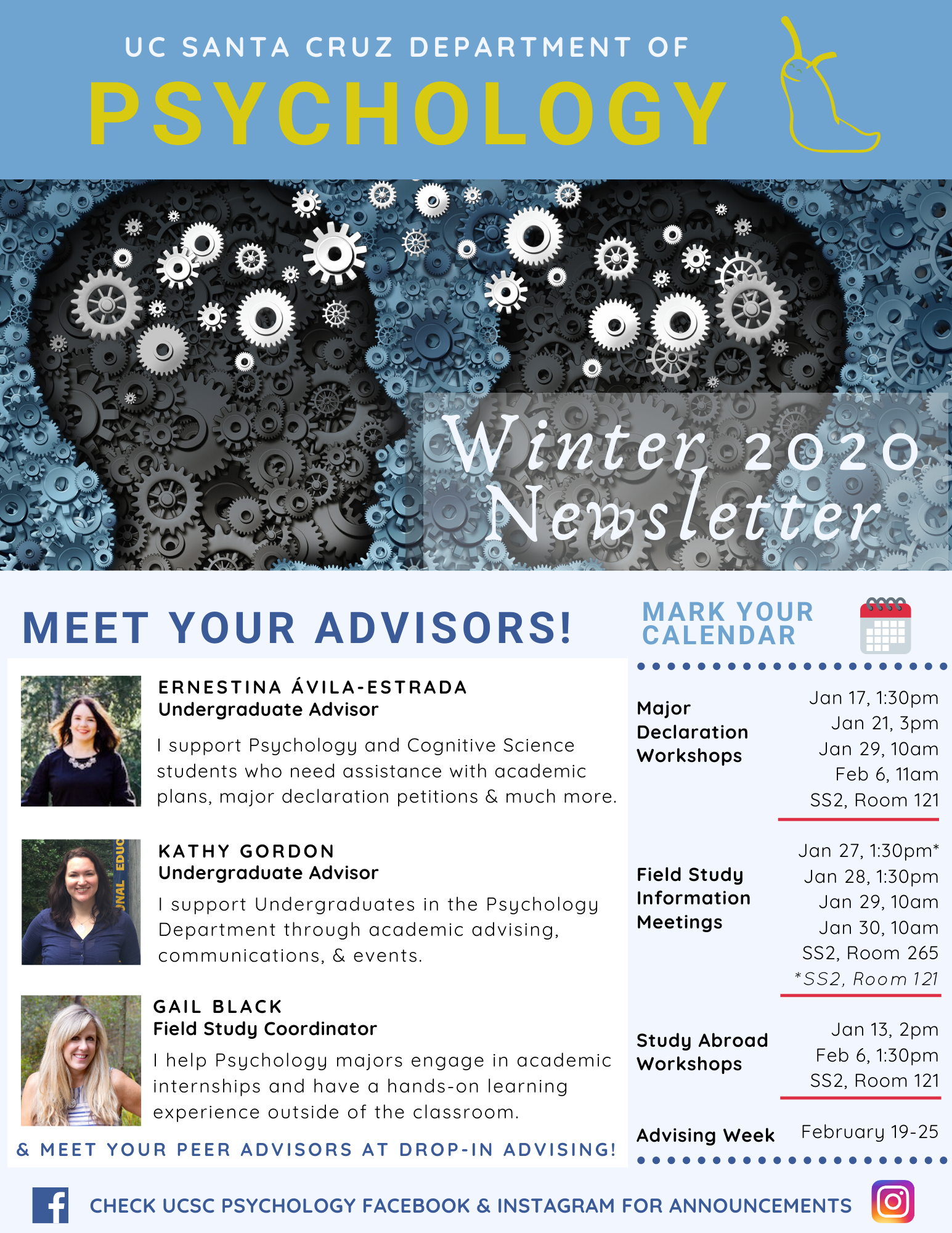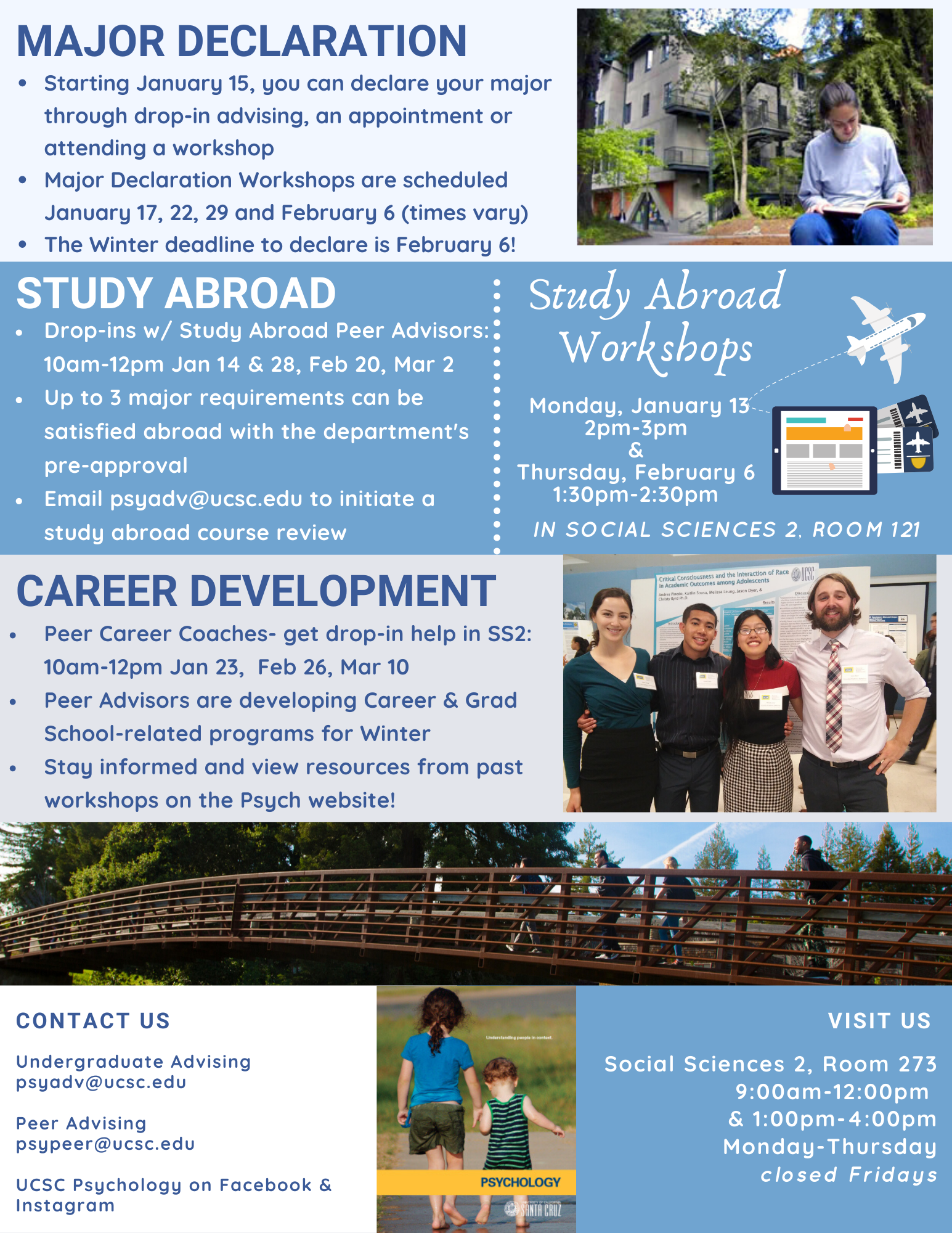 ---
Winter 2020 Enrollment Newsletter
---
Fall Quarter 2019 Newsletter