Events and Workshops
Listening Hour with Chair Hammack
Wednesday, December 9, 11:00-11:50am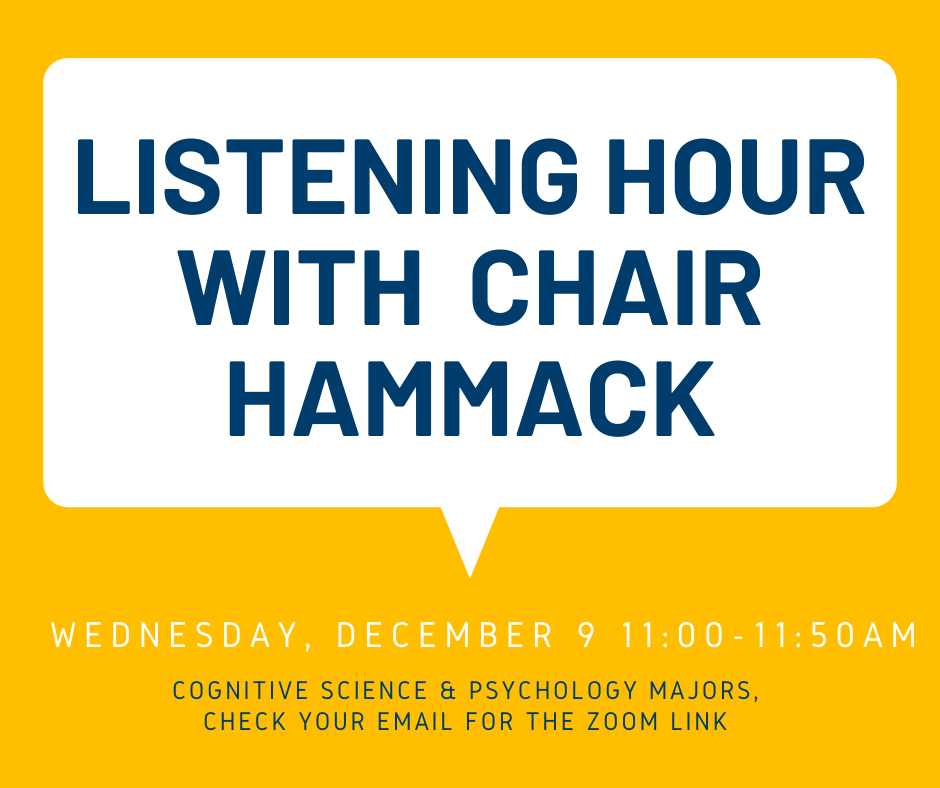 Starting this quarter, Dr. Phil Hammack- UCSC Psychology Department Chair- will be holding Zoom "listening hours" with specific members of our community. The purpose of this time is to hold space for Chair Hammack to hear from different constituencies who may experience unique issues or have unique needs during this period of remote learning. This can also be a time for you to drop by and say hello, since we're missing those opportunities for informal connection. The Zoom link was sent to all Cognitive Science and Psychology proposed and declared majors. Please check your email for a message from psyadv@ucsc.edu for the Zoom meeting link. If you didn't receive the email and would like to attend, please email psyadv@ucsc.edu to request the Zoom meeting information.
---
Study Abroad Workshop for Psychology & Cognitive Science Majors 
View the presentation here
---
Speech Language Pathology Workshop presented by Linguistics Department (for Cognitive Science Majors)
View the presentation here
---
Career & Graduate School Workshops  
You can access resources from 2019-2020 Peer Advisor workshops below
Paths to Careers in Clinical Psychology
Getting the Most Out of the Psychology Department & Your Future
How to Prepare for Graduate School
Developing Learning and Studying Strategies for Academic Success
Psychology Graduate School Panel
Psych Career & Graduate Q&A Notes
Cognitive Science/Psychology Grad School Q&A Presentation
Developmental Psychology Research & Academia Panel Notes
Graduate School and Careers for Psychology Majors Presentation 
---
Campus Programs
Career Center Events & Workshops
---
Applying to a Research Position Workshop Notes
Interested in applying to a Research Position? Click here for some helpful tips!