Meet our Peer Advising Team!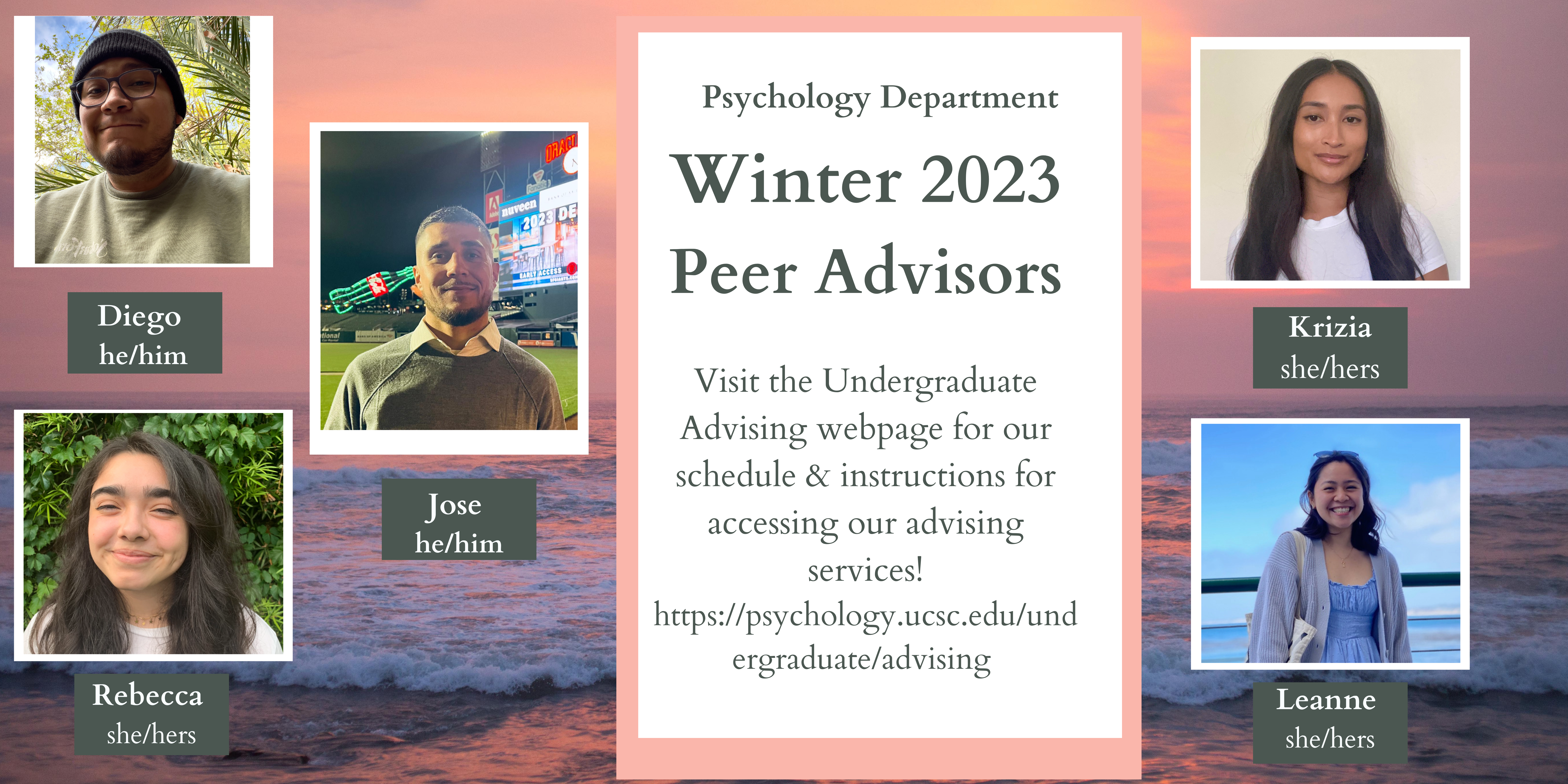 Our Peer Advisors are available for drop-in advising and over email to provide one-on-one advising for students. All Peer Advisors are trained to answer general questions regarding the Cognitive Science and Psychology undergraduate majors. You can find the Drop-In Advising schedule on the Undergraduate Advising webpage.
Peer advisors are trained to assist with: personal academic plans, graduation checks, general questions about the majors, major declaration questions, and much more! For questions, please email psypeer@ucsc.edu!

---

Meet Diego!

Hello! I'm a fourth year transfer student majoring in intensive psychology.

"How long have you been at UCSC- if you are a transfer student, which school(s) did you attend prior?"




This is my second year here at UCSC, before transferring I used to attend Hancock Community College in my hometown.




"Why did you want to become a Peer Advisor?"




I wanted to become a peer advisor, because as not only a first-generation college student but as a son to immigrants, I realize that navigating higher education can be quite challenging and sometimes confusing. I hope to be able to assist people who may be struggling, directing them towards a path that is right for them.




"Outside of your studies, what do you do for fun or to find balance?"




Outside of studies I enjoy playing music and listening to music as well.




"Is there an opportunity you've taken advantage of while at UCSC you recommend? (i.e. study abroad, research lab work, clubs or organization involvement?)"




I recommend CAPS (Counseling and Psychology Services), I realize that as we move back from online classes into in-person ones there is a great shift in how students manage their education, some struggling more than others, CAPS can be of great service to those students as a great resource for mental health well-being.

---

Meet Jose!

My name is José and I'm a 4th year transfer and parent student majoring in Intensive Psychology.




"How long have you been at UCSC- if you are a transfer student, which school(s) did you attend prior?"




I've been at UCSC since Fall 2021 and transferred from Community College of San Mateo in California.




"Why did you want to become a Peer Advisor?"




Having navigated my way through the university system successfully from community college, I wanted to become a Peer Advisor to help and support other students navigate their academic journey.




"Outside of your studies, what do you do for fun or to find balance?"




I enjoy hiking, spending time with my son, playing soccer or basketball, and photography! I'm also a huge fan of meditating!




"Is there an opportunity you've taken advantage of while at UCSC you recommend? (i.e. study abroad, research lab work, clubs or organization involvement?)"




When it was available for my courses, I found LSS (Learning Student Services) to be really useful in courses that were more challenging. They schedule tutors' sessions (Individual, Small, or Large groups) in which students can sign up for online. I highly recommend it anyone who finds a course to be challenging and/or want to connect with other students taking the same course.

---

Meet Krizia!

My name is Krizia (pronounced krit-see-ya) and I am a transfer and re-entry student majoring in Intensive Psychology. I have been at UCSC since Fall 2021, and I transferred from College of Marin.

"Why did you want to become a Peer Advisor?"

Considering the transition between high school or community college to a university is difficult, I wanted to become a Peer Advisor to be able to assist other students. I believe it is important that we create a community where we support each other in reaching our goals.

"Outside of your studies, what do you do for fun or to find balance?"

I enjoy practicing yoga and pilates, and going on hikes with my boyfriend and dog.

"Is there an opportunity you've taken advantage of while at UCSC you recommend?" 

I am a member of Psi Chi, and I recommend joining this honor society if you are interested in meeting others interested in Psychology, as well as learning about applying to graduate programs.

---

Meet Leanne!

I am a 4th-year student affiliated with Cowell College and am majoring in General Psychology.

"Why did you want to become a Peer Advisor?"

I love helping others succeed! I want to support those who may be facing academic difficulties or simply give advice to those who need it.

"Outside of your studies, what do you do for fun or to find balance?"

I like watching movies and cartoons, listening to music, and shopping!

"Is there an opportunity you've taken advantage of while at UCSC you recommend?" 

I found CAPS (Counseling and Psychology Services) to be pretty helpful during the pandemic and would recommend it to anyone who is looking to utilize the university's mental health services.

---

Meet Rebecca!

Hello! I am a fourth-year Psychology major and Theater Arts minor, as well as a proud John R. Lewis College affiliate that is committed to diversity and inclusion. I use she/her pronouns and I am an Aries.

"Why did you want to become a Peer Advisor?"

I wanted to learn how I could better serve and connect more with the wonderful people that are working and learning in the Psychology department.

"Outside of your studies, what do you do for fun or to find balance?"

I enjoy putting together jigsaw puzzles, hanging out with my loved ones, and appreciating the world around me for fun. :)

"Is there an opportunity you've taken advantage of while at UCSC you recommend?" 

I am with the Cultural Arts and Diversity Resource Center, which is a wonderful organization that uplifts voices of color and celebrates diverse cultures! I found a home in this group, and would encourage anyone who is passionate about cultivating community to join. <3