Faculty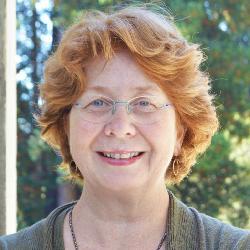 Title
Division Social Sciences Division
Department
Affiliations Education Department
Phone
Email
Website
Office Location

Social Sciences 2, Room 371

Office Hours Tuesday 12:00- 1:00pm at https://ucsc.zoom.us/j/93059081120?pwd=V1FwRzVLUk92c0tOU1JvdTZHSTlRZz09 (Spring 2021)
Mail Stop Psychology Faculty Services
Mailing Address

1156 High St.
Santa Cruz CA 95064

Courses Psych 119H: Developmental Psych Research/Real World Problems, Psych 105: Children's Thinking, Psych 244A: Proseminar I: Cognitive and Language Development, Psych 119P: Children and Technology
Summary of Expertise
Cognitive and language development in the social context of families, development of word meanings and causal explanations in parent-child conversations, diversity in families' conversations about science and nature.
Research Interests
Maureen Callanan's research focuses on cognitive and language development in preschool children, exploring how children come to understand the world through everyday conversations with parents. Taking a sociocultural approach, the research considers diversity in family conversations about topics in science and nature. One focus is on how children learn word meanings in conversation. Another focus is on how children's theories develop within parent-child conversations at home and in children's museums.
Biography, Education and Training
Ph.D., Stanford University
A.B., Mount Holyoke College
Selected Publications
Willard, A., Busch, J., Cullum, K., Letourneau, S., Sobel, D., Callanan, M., & Legare, C. (2019). Explain this, explore that: A study of parent-child interaction in a children's museum. Child Development, in press.
Callanan, M., Solis, G., Castañeda, C., & Jipson, J. (2018). Children's question-asking across cultural communities. To appear in L. P. Butler, S. Ronfard, & K. Corriveau (Eds.), The Questioning Child: Insights from Psychology and Education. Cambridge, UK: Cambridge University Press
Rogoff, B., Dahl, A., & Callanan, M. (2018). The importance of understanding children's lived experience. Developmental Science, Special issue, Towards a Cultural Developmental Science, 50, 5-15.
Callanan, M., Castañeda, C., Luce, M., & Martin, J. (2017). Family science talk in museums: Predicting children's engagement from variations in talk and activity. Child Development, Special section: Bringing Developmental Science into the World, 88, 1492-1504.
Solis, G., & Callanan, M. (2016). Evidence against deficit accounts: Conversations about science in Mexican heritage families living in the United States. Mind, Culture, and Activity, 23, 212-224.
Callanan, M., Martin, J., & Luce, M. (2016). Two decades of families learning in a children's museum: A partnership of research and exhibit development. In D. Sobel & J. Jipson (Eds.) Cognitive development in museum settings: Relating research and practice (pp. 15-35). NY: Psychology Press.
Rogoff, B., Callanan, M., Gutiérrez, K., & Erickson, F. (2016). The organization of informal learning. Review of Research in Education, 40, 356-401.
Nolan-Reyes, C., Callanan, M., & Haigh, K. (2016). Practicing possibilities: Parents' explanations of unusual events and children's possibility thinking, Journal of Cognition and Development, 17, 378-395.
Luce, M., Callanan, M., & Smilovic. S. (2013). Links between parents' epistemological stance and children's evidence talk, Developmental Psychology, 49, 454-461.
Callanan, M. & Valle, A. (2008). Co-constructing conceptual domains through family conversations and activities. In B. Ross (Ed.), Psychology of Learning and Motivation (pp. 147-165), Vol. 49, Elsevier.
Tenenbaum, H., & Callanan, M. (2008). Parents' science talk to their children in Mexican-descent families residing in the United States. International Journal of Behavioral Development, 32, 1-12.
Siegel, D., Esterly, J., Callanan, M., Wright, R., & Navarro. R. (2007). Conversations about science across activities in Mexican-descent families. International Journal of Science Education, 29(12), 1447-1466.
Crowley, K., Callanan, M.A., Tenenbaum, H.R., & Allen, E. (2001). Parents explain more often to boys than to girls during shared scientific thinking. Psychological Science, 12, 258-261.